Deska Kite Wave Duotone Whip SLS
Deska kite wave Duotone Whip SLS dedykowana na małe i średnie fale, a także do freestyle strapless.
Kompaktowy kształt oferuje szybkie przyspieszenie i dużą prędkość.
Zaawansowana technologia i wysoka jakość Duotone gwarantowana.
Nie wiesz jaki rozmiar deski wave dobrać?, zapytaj, pomogę w doborze.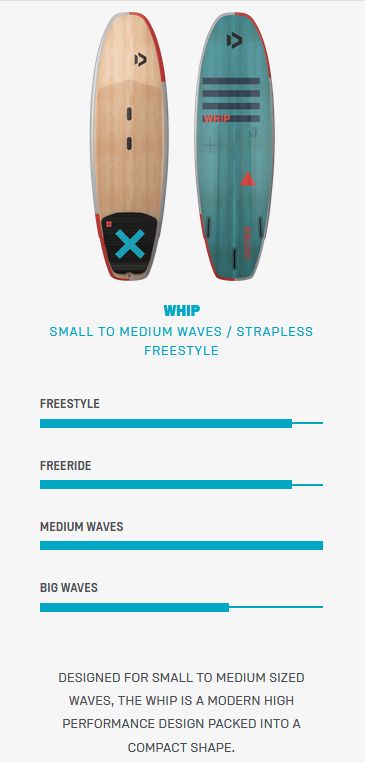 Cork Shock Absorber
Cork offers excellent absorption characteristics and reforms entirely without leaving any visible dents in contrast to PVC. Therefore, it is applied as a damper in the heel area of the surfboards.
Grab Rails
Grab Rails for easier freestyle tricks, durability and comfortable general riding.
Strapped or strapless
Board is delivered with inserts so straps can be mounted.
Bamboo Tech
Bamboo is a sustainable material and comes with amazing technical characteristics. Our bamboo tech surfboards feature a high strength to weight ratio with great resistance to dents and perforations. The resulting boards are very durable and provide high performance riding characteristics.
Responsive Flex
Using bamboo in our surf boards, we take full advantage of the dynamic qualities of this natural product. Optimized layers and the mix with composite materials help us to construct powerful, agile and versatile surf boards that come with a unique flex – responsive flex!
Classic Construction
This classic layup is the result of all our years of development to create a durable, all-round strapped / strapless construction that combines the best elements of flex and feel with a durable construction that is proven to be far superior in strength to weight ratio than any other technology available. PLEASE NOTE: Inspired by the Light Team Construction the bottom of the Classic Construction now offers two light weight bamboo strips and an unidirectional glass beam outside the lamination to prevent buckling.
Multibox
All boards now come with our own Futures Fins compatible fin boxes. Two side set screws and no rear tab allow for a wider tolerance of fin fitting and ensure a perfect and tight fit every time whether you're using our high quality composite fins or any stock after market Futures brand fin. Easy to install and uninstall even with Sand and Salt.